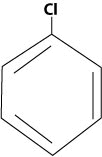 Molecular Formula: C6H5CL
Molecular Weight:: 112.6
Boiling point: 131.9°C
Specific Gravity: 1.105
Point of Freezing: -44°C
Moisture: 150 p.p.m. Máx.
Purity: 99% Min.
Range of Distillation: 131.6 + 1°C
Usage:
In the manufacture of sulfone polymers: Plusulfone, polyethersulfone and Poly-phenylsulfone. The mayor use is in the manufacture of Nitrochlorobenzenes. It is used as a solvent for herbicides and the solvent for diphenylmethane diisocyanate manufacture. MCB is used as a solvent to produce rubber products, pesticides and resins. It is used in the manufacture of tree indigoid dyes and pigment.
Packing:
In Bulk , Tank Car with 44,000 lb
In Drums, 1/ 485 lb each one net weight
Isotank, 25 Metric Tons (55114lb)